Let there be light - not quite !
Well, brilliant weekend - stunning rugby sucess by the boys plus Chelsea winning the league and the Quins promotion celebrated - it doesnt get much better than this. And May Day working on the bus - Hurray. Got down there in good time, ready to work on the electrics, to be greated by a pile of goodies that had arrived.
Well, first off, the new bulbs - stupidly I'd ordered the wrong ones, bayonet way too small. Will need to sort this out ASAP, as it will be so lovely to see her lit up.
Next, the door for the gas bottles, which are going in the cradle under the bus - once I saw it I began to really hate the idea of cutting holes in the outside of her, so far needed for; gas door, toilet cassette and air vents for fridge. I'm going to look at whether it might be possible to hinge a side panel, instead of a cut-out door.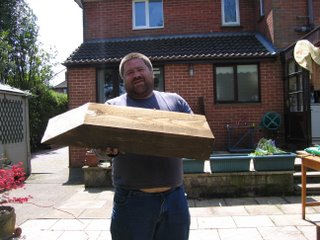 Thirdly, the Sterling charger, gorgoeus clever little box - went to try in the under bed cupboard we've built and the cupboard is an inch too short - nightmare. Will have to build it up all round with some 1"by1".
Lastly, the sleepers have turned up - brill. After the usual problem of trying to cut with a blunt chain saw followed by the inevitable trip to B&Q to find the new chain, which is never simple, we made some chunky ramps so we can get under the bus - these came together really well. 80cm on the bottom, 60cm top, and we've nailed some chucks on. Will try the cautious drive up onto them next weekend.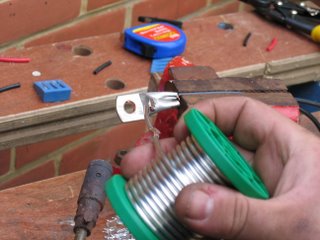 After some very good advice about wire crimping, we've connected the 4 leisure batteries to each other and made the wires to connect to the sterling charger and to the fuse box. We read some sage advice on inline fuses this week, and have built them in. We bought a fuse box from eBay, didnt much like the connectors it used, so rewired it, and now feel really happy about the electrical design. I've got loads of diagrams, logical and physical, all in the precious black book, so I'll be OK when Mr Chantelle leaves me in sole charge.
Good weekend all round, once we'd overcome the usual snags