Happy Easter
Happy Easter to you all. Went to a beautiful service this morning, came home and raised our glasses to many special family anniversaries, then back to work !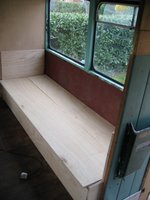 We hummed and ha-haed about putting arms on the sofa - it has walls at either end already, but padded arms would make it much more comfy, so we redesigned the hinged lid, to give some clearance either end for the arms and padding. We used piano hinges again, along the length of the sofa about 40cm from the edge, which will give us good access, and hopefully we'll still be able to lift it with the cushions in place. I cle
aned the floor before we screwed it down, after several buckets
of water, it now has a lovely smell. We designed the sofa largely on the fly, as it grew, we saw better ways of doing it. We going to keep it low, and make sure the back is level with the window, to minimise the disruption to the external look of the bus.